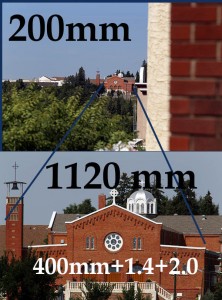 I shoot Canon. I have both a 1.4x teleconverter and a 2x teleconverter, AKA lens extender. I've always wondered how much difference these converters make. What do you gain? A bigger zoom.  What do you lose?
Using a teleconverter makes photography more challenging. Higher apertures allow less light, force slower shutter speeds, requiring a steady hand, tripod or higher ISO settings.The extension also adds some distortion. But how much?
I recently challenged a friend with a cheap 300mm lens."Take a photo at 300mm. Then take another photo, with the same camera, from the same spot, with my 200mm pro lens. Use Photoshop to upsize the 200mm photo to match the 300mm photo. The 200mm image will be higher quality – even though it is just 'upsized'."
I had previously considered buying a cheap 300mm zoom. But I found, when I compared it to my white 200mm – it did not add any value. It actually produced lower quality images. The difference was clearly visible in the camera display.
What about a teleconverter? It gives a higher zoom, but at what cost? Can I up-size an image taken without the teleconverter, and get equivalent, or near equal value? I gathered a bunch of hardware to do some serious testing.
Canon 6D – 20 megapixel camera
200mm f2.8 Canon lens (non IS)
400mm f5.6 Canon lens
1.4x teleconverter
2.0x teleconverter
2.8 teleconverter – created by stacking 1.4 and 2.0
tripod,
balcony facing a church – about 1/2 mile away
remote shutter control, using a long pause after focus, to give the structure time to stabilize.
Since I was taking time to do some serious testing, I added the 400mm prime into the mix – just to see how it compares.
Technique:
I set up each test system on the tripod and took a photo of the church, at the longest zoom. I started with the 70-200mm lens and took three photos at 200mm. Chose the best image. Then I put on the 1.4x telecoverter, and took three more photos. Choose the best one.Then the 2.0 teleconverter, and finally stacking them to give a 2.8 teleconverter. I did all tests with the 70-200 lens, on f8, at 200mm. Then I put the 400mm prime through the same tests.
The Church
I took two images into Photoshop, the largest zoom first, and added the smaller zoom as a layer. I stretched the smaller image to match the larger zoom.
To compare the two images, I only had to click the top layer on, and then off. I could look closely at both images, and very quickly pass judgement on which was better.
It took some time to go through the entire series. In addition, I took a few photos at 400iso, 800iso, and 1600iso, to see what difference that might make.  A higher ISO brings down the shutter speed, giving sharper images, but at the same time, higher ISO brings noise into the image – where's the trade-off?
Looking at images of a faraway church window and brickwork made judgement difficult. I found a positive progression of image detail as I went up the range, with some surprises. It seems the 200mm lens, with 2x converter is equal, perhaps a bit better than the 400mm prime. Not too surprising – the 200mm is one of Canon's sharpest lenses.
The 400mm lens, paired with 1.4 converter gave very poor image.  I suspected a focus error – this combination requires manual focus.  Further testing confirmed a focus problem. Finally, it seemed that when I stacked the 1.4 converter, and the 2x converter together, the image quality dropped a bit. Could this be corrrect?
ISO?
I did not expect the ISO results. Stacking double teleconverters onto a lens increases aperture, and decreases shutter speed. At 400 ISO, I could not see a difference. At 800 ISO, the image was better – but only in configurations where the shutter speed had dropped quite low. At 1600 ISO, the noise resulted in an image of poorer quality, even with a faster shutter speed. Of course the ISO difference will depend on your camera.  The Canon 6D maintains very high image quality as ISO rises.  If your camera is not so good, you might find the peak at 400 ISO, or perhaps no benefit from raising ISO in low light.
Let's Get Serious
Looking at images of brick and stained glass windows, 1/2 mile away, with a paved road intervening, creating hot air currents, is not the best test. I needed a better test.
I set up a test pattern on one balcony – and my tripod on the other balcony.  I proceeded through the entire series of shots, in a much more controlled space, with a test pattern designed to judge image quality. This time there was little doubt.
As I stacked on the teleconverters, the image quality rose. Even the 1.4x plus 2.0x converter combination still managed a slightly higher quality image than either single converter.
The situation with the 400mm prime actually reversed. The 400mm prime turned out slightly better quality than the 200mm with 2x teleconverter.  But the the 200mm with both converters stacked gave higher quality than the 400mm prime. Close, perhaps hard to judge, but I liked the stacked converter image better.
Again I found that 800 ISO provided a bit of a punch in low light. It gave me a faster shutter speed. The difference in shutter speed gave a slightly better image, compensating for the noise introduced by shooting at a higher ISO. It's actually close enough that, depending on your taste, you might prefer the 100 ISO over the 800 ISO. Once I raised the ISO to 1600 – the quality dropped dramatically.
Conclusions: 
The teleconverters actually produce more detail in every test, even when stacked.  I was suspicious, but I'm convinced. Of course they introduce two challenges, focus and stability.
Focus: When you stack them, even on the 200mm lens, you need to manual focus. Even a single 1.4 converter on the 400mm f5.6 lens won't autofocus.  It's sure nice to have live-view.
Stability: With the 400mm lens, and both teleconverters, the live view image never stopped bouncing. My balcony is not rock solid,  Traffic on the street. even a slight swing of the camera strap seemed to bring more jitters to the image. Taking several images – and using the best one – was the only solution. This is where higher ISO added value.
The data, the Image (crops) in ascending quality sequence – as I see it:
The Church: Reference Image – from across the street. 
200mm
280mm 200mm with 1.4x
400mm
400mm 200mm with 2.0x
560mm 200mm with 1.4 and 2.0x
560mm 400mm with 1.4x
800mm 400mm with 2.0x
1120mm 400mm with 1.4x and 2.0x
Test Pattern Reference image with Canon G16 in Macro mode Note: The reference image shows that the test pattern is not the best quality, and almost not good enough for the top level tests. It was printed on a cheap laser printer.
200mm
280mm 200mm with 1.4x
400mm 200mm with 2.0x
400mm Prime
560mm 200mm with 1.4 and 2.0x
560mm 400mm with 1.4x
800mm 400mm with 2.0x - 100 iso
800mm 400mm with 2.0x – 800 iso